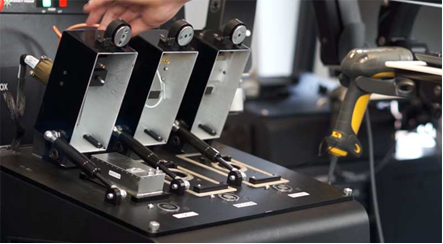 Automated Test Solutions
We design, manufacture and support a wide range of turnkey test systems for leading global OEMs. Our solutions include zero-defects vision inspection, functional testers, custom smart fixtures, pneumatics and robotics
Requirements Gathering
To deliver the most cost effective PXI based test solutions that meet your demanding business objectives, it is essential to work to a full systems requirement. We can help you create water tight test strategy, architecture and system requirement documentation. Our requirements gathering service can be provided for full systems or separate hardware or software specifications.
Custom test system design and build
If you have a requirement that cannot be satisfied by our standard Precision Test Systems, we offer a full test system, test fixture and harness design and build service.
Chassis and Instruments
This is where it begins – rack and instrument selection. Sometimes our clients know exactly what they want, other times we make design and component recommendations based on test types, product mix, and budget. But one thing's clear – to test and measure electronic products, you need robust hardware. That's why we procure and integrate only the best and most reliable racks and instruments, typically sourced from our longstanding partners And while most test vendors can assemble a test station, with Averna you get the added value of our hard-won expertise and best practices for instrument selection, cabling/wiring, access, safety and ergonomic features. And client support that is second to none.
Fixtures, Chambers & Test Beds
The days of hardwired fixtures are almost over. Today you can get much more value out of your test station and lower instrument costs with a flexible fixturing approach. Consider putting more test intelligence into fixtures and make them swappable to suit your needs as products evolve. With our strong focus on high value and efficiency, we design smart fixturing systems that optimize instrument usage, speed UUTs through automated test routines, reduce wear and tear, and simplify production line changeovers and updates
Industry-Standard Custom-built Software
Software innovation is a big part of our success. We're constantly solving client challenges with new approaches ─ leaner code, better instrument control, faster processing, easier upgrades, less rework, smoother interoperability, and smarter data collection. Using industry-standard software, we know how to optimize hardware and drive automation, quality, and efficiency results. And most turnkey projects mean a clean handover of the source code and documentation, so your own team can efficiently update it as your test needs evolve.